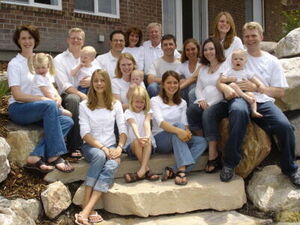 President Douglas H Swenson
Address not available

Send Email
Spouse: Laraine
Served: 1995 - 1998
Associated Alumni
Your Occupation: Executive
Comments:
As of July 2007, the Swenson family continues to grow with four in-laws, one more on the way and seven grandchildren. Lisa and Scott are in Portland, Oregon working for Intel. Brian, Jen and their three children are in Charlottesville, VA with Brian in a surgery residency at UVA. Jill, John and their two children live here in Logan where John is completing his masters at USU and Jill teaches piano. Emarie is just turning 14 and starts high school this fall. Three of our children are at BYU in Provo: Marc (married to Kristin Laney, they have two kids) has completed his second year of law school and is interning in New York City this summer. We visited them in June and saw Wicked. Erin is getting married to Steve Hatch next month and starts a Masters of Public Administration program this fall. Steve works at the MTC and hired Erin as a teacher last year. She has been home from her mission to Germany/Austria for just over a year. Anne is almost a senior, studying the biological sciences and trying to decide if she will graduate before or after she serves a mission.

We built a new home last year and moved three blocks from where we lived for thirty years and where many of you have visited us. Our back yard is a beautiful 19-acre park with a view of Cache Valley and the Wellsville mountain range. Laraine and I are enjoying our callings in the ward teaching the temple preparation class together, 12-13 year olds in Sunday School (me) and Nursery (Laraine), plus Laraine is chair of the RS Humanitarian Committee. We are enjoying our truly restful Sundays.

Laraine has been serving on the Logan City Council for almost 4 years. I am on the board and executive team of Jack's Tire & Oil, a Michelin truck tire and retread dealer in Utah, Idaho and Arizona, headquartered in Logan, Utah. I also serve on the board of Lewiston State Bank, a community bank with three branches in Utah and Idaho.

We enjoy the emails, calls and visits from our missionaries and following your amazing lives. We are so very thankful for the wonderful 3 years of service with all of you in the California Arcadia Mission.


LDS Church News Archives,
Saturday, February 18, 1995

Douglas H. Swenson, 44, Cliffside 2nd Ward, Logan Utah Mount Logan Stake; counselor in stake presidency; former high councilor, bishop and counselor, executive secretary, elders quorum president, Cubmaster, and missionary in the Mexico North Mission; partner in a CPA firm; received bachelor's degree in accounting from BYU; born in Ames, Iowa, to Richard Merill and Inez Tennant Swenson; married Laraine Stock, seven children.

She is Young Women president; former Relief Society president and counselor, Primary president's counselor, and Young Women adviser; received associate degree in microbiology from BYU; born in Chicago, Ill., to Max Hanson and Roma Jeane Turner Stock.

© 2001 Deseret News Publishing Co.
LDS QUOTE:
"You are a great army of returned missionaries. Go forward with new zeal and determination, and through your example shine the light of the gospel in this troubled world. This is the Lord's work in which we are engaged. God lives. Jesus is the Christ. We belong to His Church. This is my witness to you in the name of Jesus Christ, amen."