New Search | Add Profile | Edit Profile | Delete Profile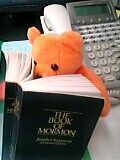 Mieko Takahashi
Tokyo, Japan
Send Email
Comments:
Hello! My name is Mieko and I attend Senzokuike Ward, Japan Tokyo Stake.
When I took a trip to Scotland in April, 2007, I made friends with a person from Hungary.
I'd like to know more about your country and culture, it would be wonderful if I could have pen friends from the Church over there in Hungary.