---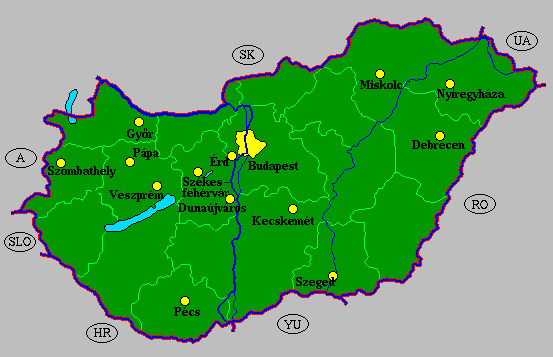 Using the Map:
The map has links to cities and regions of interest. Select a region with the mouse and <CLICK!>, it's easy!
If the map doesn't work for you, click here.
Other Links
Sites of general Hungarian interest:
Hungary.Network | Internet Hungary Kft. | Hungarian Home Page | HipCat's Hungary Page
Regional/Special Interest:
Hungarian American:
Live Hungarian Radio Broadcasts through the Internet:
(Required plug-in available free from Progressive Networks)
Hungarian Radio | Kossuth Rádió | Petõfi Rádió | JUVENTUS Radio | Live Rádió Eger
Food!
News:
Magyar Hírlap Ottlap | hvg online | Nepszabadsag Online | VillanyNarancs | Dunatext - A Duna Televízió Teletext | iNteRNeTTo - Light
Culture:
Literature:
Hungarian Electronic Library | Tiszatáj (Literary Journal) | Hungarian Book Agency
History:
Education:
Hungarian Government:
Prime Minister's Office, Hungary | Magyar Országgyûlési Hivatal
A Magyar Nyelv (Language):
The Alternative Hungarian Dictionary | Angol Szotar -- Hungarian Dictionary | Hungarian Language Course | Finno-Ugric Languages and Cultures Homepage | Magyar nyelv utazóknak (English) (hosted by travlang)
Links to Hungary / created by Jarrod Ribble in January 1997
---
last updated March 1997