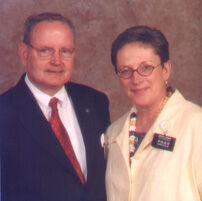 President J. Kent Larkin
Address not available

Send Email
Spouse: Pat
Served: 2001 - 2004
Associated Alumni
Your Occupation: Retired, United States Air Force Chaplain, Colonel
Comments:
President Larkin is a native of Granite, Utah (the mouth of Little Cottonwood Canyon near Sandy, Utah) where he grew up on a mink ranch and fruit farm. After graduating from BYU in Business Management and Asian Studies, he went on to complete a Master's Degree in Business Education and Organizational Behavior and later a Doctorate in Psychology from United States International University with licensure in the State of Utah as a Marriage and Family Therapist. Following graduation from graduate school at BYU, he and Sister Larkin returned back to Taiwan to teach at the Taipei American School, and later went on to teach school at the Church College of New Zealand. Returning to the United States, President Larkin was endorsed by the Church to serve in the United States Air Force. He retired from in 1998 as a Colonel from Scott Air Force Base, Illinois, having served for 25 years as an LDS Chaplain. Through these assignments they traveled throughout the world. Prior to receiving the call to preside over the Taiwan Taichung Mission, he taught school as an adjunct faculty member at BYU and UVSC; served in hospice and Employee Assistance (EAP) counseling. He now continues to enjoy his hobby as a certified ski instructor at the Sundance Ski Resort in Provo Canyon. President Larkin served in Taiwan from May 1963 - Nov 1965 as a missionary when Taiwan was in the Southern Far East Mission. Since returning from Taiwan, President Larkin is serving as the bishop of the BYU Asian Ward.

Sister Larkin is from Cedar City, Utah. She graduated from the LDS Business College and worked at the University of Utah and later at Murdock Travel using her secretarial skills wherever President Larkin's assignments took them. She met and married President Larkin in the Salt Lake City Temple in May 1967. They are the parents of two daughters, Kortnai Kai Crampton (Jonathan), Pleasant Grove, UT and Kamaree June Nuzman (Jaren) Corona, CA. They are the grandparents of three granddaughters: Brianna Alexis, Bethany Kay, and Sadie Genevieve Crampton; one grandson, Gunnar James and Baby Nuzman (due in September '08).

Their mailing and living address is: 566 West 10 North, Orem, UT 84057 and their telephone number is 801-765-0996.